Hosted by Mark Benzaquen, OIC SM Instructor and Principal, Investor Education at OCC?, the OIC Wide World of Options podcast will feature a dynamic mix of current events, investor resources and strategy insights.
This Show Is Presented By:
The Options Industry Council
The Options Industry Council (OIC)SM is an industry resource provided by OCC? that offers education and practical knowledge about the benefits and risks of exchange-listed options.?
Since 1992, OIC has been dedicated to increasing the awareness, knowledge and responsible use of options among a global audience of investors ? including individuals, financial advisors and institutional managers.
Join host Mark Benzaquen as he welcomes colleague and long-time options professional Mat Cashman for a talk about the theoretical option metrics known as The Greeks.
read more
In this Wide World of Options episode, host Mark Benzaquen welcomes OIC instructor Ken Keating for a discussion on the primary inputs used to determine options pricing as well as one of pricing's key components, implied volatility.
If your New Year?s Resolutions include learning about options, OIC?s Wide World of Options podcast has you covered. Get started by learning basic terminology and fundamental concepts necessary to begin your journey.
Join host Ed Modla and Mark Benzaquen, Manager of the OCC Investor Services team, as they discuss the collar strategy and the many ways that it can be used for downside protection on this episode of Wide World of Options.
While a merger between two companies might affect its shareholders, what effect might it have on buyers and seller of options? Find out on this episode of Wide World of Options.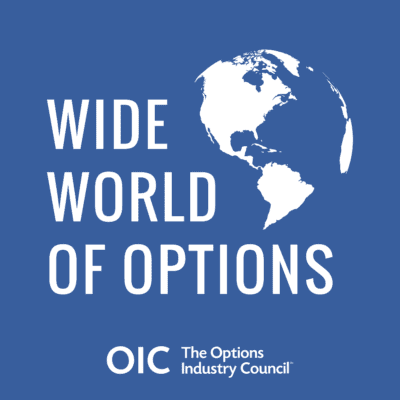 Join seasoned option professionals Mark Benzaquen and Mat Cashman as they discuss how dividends impact options pricing, the risk of early exercise, and the treatment of special dividends and adjusted contracts.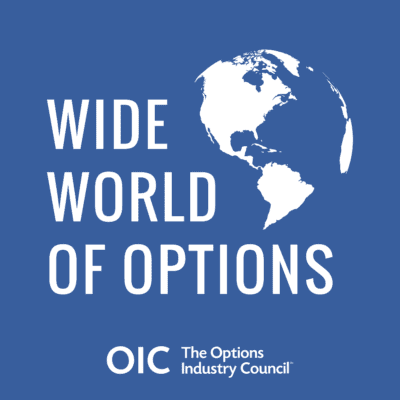 Join seasoned options pros Mark Benzaquen and Roma Colwell as they discuss the differences (and similarities) of trading index options versus their single-stock counterparts on this episode of Wide World of Options.
Join seasoned options pros Mark Benzaquen and Ken Keating as they discuss the ins and outs of volatility as well as metrics such as IV rank, IV percentile, and strategies for both low and high IV situations.
Even though more than 70% of all options are typically closed out ahead of expiration, there are still millions of contracts being exercised and assigned each month. Knowing this, it is important for investors to understand not only the benefits and risks of exercise and assignment, but also the rules surrounding the processes.
Picking up from last month?s topic of ?Trading Options for Income?, OIC?further explores the concept by focusing on two popular selling strategies?the Covered Call and a variant of the strategy, the Poor Man?s Covered Call.
About Your Host
Mark Benzaquen is Principal, Investor Education at OCC??and a regular contributor to the educational efforts of The Options Industry Council SM. Mark began his career in options with Stafford Trading, LLC in 1997 before transitioning to brokerage operations with MF Global in 2000. For more than a decade, Mark was the Lead Broker for his firm in the NDX/RUT trading pit, gaining special insight into customer order flow and trade execution.
At OCC, he is responsible for managing the operations of a comprehensive options resource center that provides information and education about options and supports all products traded on all OCC participant exchanges. In addition?to his responsibilities with OCC, Mark also serves as an instructor for The Options Industry Council, conducting option?seminars and presenting?online webinars for all segments of the investing community, including registered Representatives and Advisors.
Mark Benzaquen
Options Industry Council
Stay Connected to Get The Latest Episode Alerts
This will send you emails each time we release a new episode in this show