Supply Fears Ignite Palladium
Today's Spotlight Market
Palladium futures have traded to their highest levels since August 2011 due to supply fears.? New sanctions from the European Union are not expected to have a material impact on the Russian economy.? However, Russia could retaliate by limiting exports from the nations, which could include its precious metals.? Labor issues in South Africa also gave both Platinum and Palladium prices a boost due to labor issues in the nation
Fundamentals
Russia accounts for 44% of the world?s Palladium production, followed by South Africa, which accounts for 40% of world production.? The situation in South Africa may have a large impact on Palladium supplies.? Members of the Association of Mineworkers and Construction Union have been on strike since January 23.? There have been reports of workers being prevented from returning to work by force at Lomin mines, which has made it impossible for the company to get the mines back online.? Over the weekend, it was reported that four people were killed and another six injured in violence linked to the worker turmoil.? These supply issues come at a time when there is more optimism about the US and European economies, which would lead one to believe car sales are bound to improve.? Palladium is a key component in emission control devices in cars.
Technical Notes? -? View Today's Chart
Turning to the chart, we see the June Palladium contract continuing to trade almost parabolically since the end of January.? Prices broke through resistance at the 815.00 level and are now approaching the August 2011 spike high of 850.20.? The RSI indicator remains on the high side of neutral, suggesting the indicator may creep into overbought territory with further price increases. It is of interest to note that the RSI has been diverging from prices for some time, hinting that a downside reversal is not out of the question.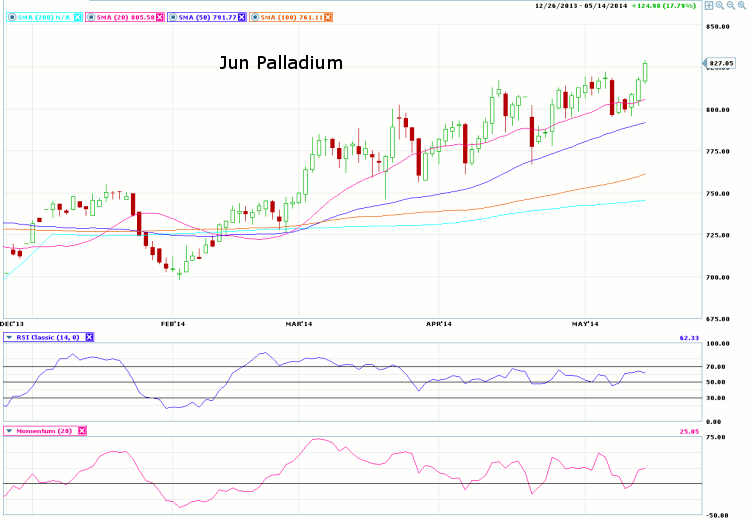 ————————————————————————————————
Disclaimers
This article is provided for informational purposes only. No statement in this article should be construed as a recommendation to buy or sell a security or to provide investment advice. The content provided has been obtained from sources deemed reliable but is not guaranteed as to accuracy and completeness. optionsXpress makes every effort to provide timely information to its recipients but cannot guarantee specific delivery times due to factors beyond our control.
Derivatives involve substantial risk and are not appropriate for all investors. Please read the?"Disclosure Statement for Futures and Options"?prior to investing in futures or options.
For investments using a straddle or strangle options strategy the potential loss is unlimited. Multi-leg option strategies are subject to multiple commissions. Profits may be eroded by the commission expended to open and close the positions and?other risks?apply.