Big Week for Bonds Ahead?
Today's Spotlight Market
Bond futures have found strength as a defensive play during recent weeks, as the crisis in Ukraine drags on. Barring a major surprise from the Fed, the percolating tension between Ukraine and Russia could offer support for defensive instruments. Recent economic data has also been lackluster, which suggests that the FOMC could release a dovish policy statement. Whether or not traders buy into what the Fed is selling is another matter. Technically, the Bond market is approaching resistance near the 135 level. It remains to be seen if the market has enough momentum to push through resistance in light of looming cutbacks in asset purchases from the Fed.
Fundamentals
This is an event heavy week for the Bond market with the two-day FOMC meeting and non – farm payroll data. The Fed is expected to make further reductions to asset purchases coupled with a dovish policy statement. The central bank is expected to trim monthly purchases by $10 billion, which would mark the fourth convective monthly reduction. Asset purchases would be reduced to $45 billion a month and would mark the half way point in the Fed's plan to eliminate quantitative easing. The FOMC is also expected to reiterate its 2% interest rate target, as inflation has remained tame. The Bond market could also feel pressure from non-farm payrolls, which are expected to show positive gains.? ?
Technical Notes? -? View Today's Chart
Turning to the chart, we see the June Bond contract testing and failing to break through the 135-00 level twice.? This has resulted in a small M top, hinting at possible near-term weakness.? Given the small size of the top, prices may test the mid-132?s , which would put the Bond contract near the 100- and 200- day moving averages.? The RSI indicator was showing overbought levels prior to testing 135-00, suggesting the choppy action over recent sessions could be attributed to overbought conditions.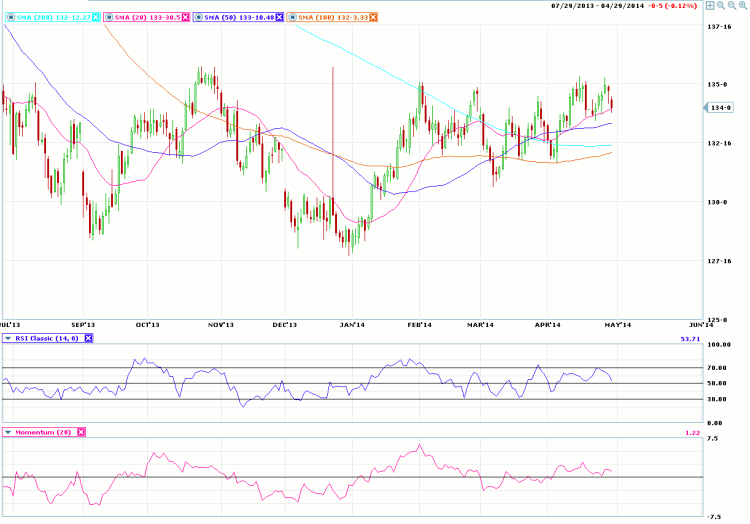 —————————————————————————————————
Disclaimers
This article is provided for informational purposes only. No statement in this article should be construed as a recommendation to buy or sell a security or to provide investment advice. The content provided has been obtained from sources deemed reliable but is not guaranteed as to accuracy and completeness. optionsXpress makes every effort to provide timely information to its recipients but cannot guarantee specific delivery times due to factors beyond our control.
Derivatives involve substantial risk and are not appropriate for all investors. Please read the?"Disclosure Statement for Futures and Options"?prior to investing in futures or options.
For investments using a straddle or strangle options strategy the potential loss is unlimited. Multi-leg option strategies are subject to multiple commissions. Profits may be eroded by the commission expended to open and close the positions and?other risks?apply.