Cattle Futures Weaken as Beef Prices Tumble
Today's Spotlight Market
Large speculators have been adding to a record net-long position in Live Cattle futures just prior to the recent sell-off. The most recent Commitment of Traders report shows non-commercial traders (normally large speculators and commodity funds) were holding a net-long position of 156,812 contracts, up nearly 1,000 contracts for the week ending April 1st. This record long position increases the potential for a sharp price correction on bearish news, especially if large-scale selling occurs as speculators liquidate positions.
Fundamentals
The bull market in Live Cattle futures has run into some headwinds lately, as record high prices for beef have finally seen some backlash from wholesalers. Meat packer profit margins have been cut due to high prices for cash Cattle, which have slowed demand for market ready Cattle from end-users. Retail consumers are also starting to balk at paying high prices for beef, which in turn has forced wholesale beef demand lower. Unseasonably cool spring weather in parts of the Midwest and East Coast has also played a factor in weak beef demand, as the spring barbeque season has been delayed. Traders still bullish on Live Cattle will note the wide discount of summer month futures to cash market prices, which could spark a rally in deferred month contracts should wholesale beef prices begin to stabilize. However, the potential for an increased supply of market ready Cattle to enter the market later this spring and into early summer could encourage buyers to hold off on purchases, awaiting lower cash prices in the coming weeks.??? ?
Technical Notes? -? View Today's Chart
Looking at the daily chart for June Live Cattle, we notice prices have had the most significant move below the 20-day moving average since November of 2013, as the April 4th sell-off took out a key support level. However, there are two major uptrend lines that have yet to be tested, so calling an end to this historic bull market may be premature. The 14-day RSI has turned weak, with a current reading of 43.97. 131.650 looks to be the next support level for June Live Cattle, with resistance seen at 137.550.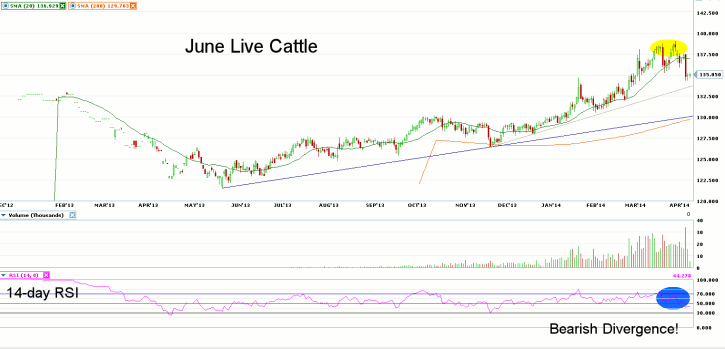 ————————————————————————————————-
Disclaimers
This article is provided for informational purposes only. No statement in this article should be construed as a recommendation to buy or sell a security or to provide investment advice. The content provided has been obtained from sources deemed reliable but is not guaranteed as to accuracy and completeness. optionsXpress makes every effort to provide timely information to its recipients but cannot guarantee specific delivery times due to factors beyond our control.
Derivatives involve substantial risk and are not appropriate for all investors. Please read the?"Disclosure Statement for Futures and Options"?prior to investing in futures or options.
For investments using a straddle or strangle options strategy the potential loss is unlimited. Multi-leg option strategies are subject to multiple commissions. Profits may be eroded by the commission expended to open and close the positions and?other risks?apply.