Kellogg Call Options Active Ahead Of Earnings
Shares in packaged foods producer Kellogg Co. (Ticker: K) are in positive territory on Monday afternoon, trading up by roughly 0.20% at $65.48 as of 2:20 p.m. ET. Options volume on the stock is well above average levels today, with around 12,500 contracts traded on the name versus an average daily reading of around 1,700 contracts. Most of the volume is concentrated in September expiry calls, perhaps ahead of the company?s second-quarter earnings report set for release ahead of the opening bell on Thursday.
Time and sales data suggests traders are snapping up calls at the Sep 67.5, 70.0 and 72.5 strikes. Volume is heaviest in the Sep 72.5 strike calls, with around 4,600 contracts traded against sizable open interest of approximately 11,800 contracts. It looks like traders paid an average premium of $0.37 per contract for the 72.5 strike calls, which may be a profitable trade at expiration in September in the event that Kellogg shares rally 11% over the current price to exceed the average breakeven point at $72.87. Shares in Kellogg traded up to a 52-week high of $69.50 in June, but have not traded above $72.87 since August of 1997. The concentration of trading traffic in September expiry calls on Kellogg today has pushed the call/put ratio on the name to roughly 6.5 this afternoon.
Chart ? 20-year chart of Kellogg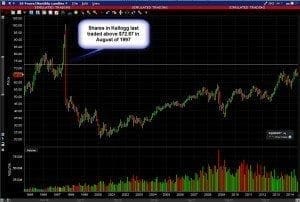 ——————————————————————————————
Note: The material presented in this commentary is provided for informational purposes only and is based upon information that is considered to be reliable. However, neither Interactive Brokers LLC nor its affiliates warrant its completeness, accuracy or adequacy and it should not be relied upon as such. Neither IB nor its affiliates are responsible for any errors or omissions or for results obtained from the use of this information. Past performance is not necessarily indicative of future results.
This material is not intended as an offer or solicitation for the purchase or sale of any security or other financial instrument. Securities or other financial instruments mentioned in this material are not suitable for all investors. Any opinions expressed herein are given in good faith, are subject to change without notice, and are only correct as of the stated date of their issue. The information contained herein does not constitute advice on the tax consequences of making any particular investment decision. This material does not take into account your particular investment objectives, financial situations or needs and is not intended as a recommendation to you of any particular securities, financial instruments or strategies. Before investing, you should consider whether it is suitable for your particular circumstances and, as necessary, seek professional advice.