Here's a look at The Options Insider's favorite tweets of the week.
Financial exchanges/options markets
New S&P 500 End-of-Month Options to launch July 7 http://www.cboe.com/EOM? $SPX $SPXW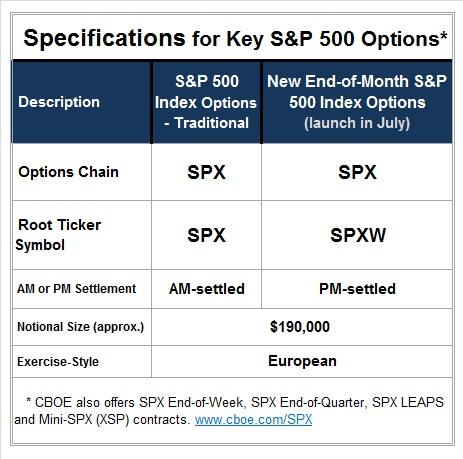 VIX to Add Half-Point Strikes in Near-Term $VXST #VIX #VIX strike price http://ht.ly/2He4WU?
Derivatives Market Landscape: Significant Increase in Overall Size of Derivatives Industry http://ow.ly/xkOWp?
ISE Holdings?@ISEexchange?
NEWS: ISE Holdings welcomes its newest Board Member, Jonathan Rosen, Managing Director at Citadel Securities http://www.ise.com/press-room/press-releases/2014/ise-announces-new-board-member/??
SPX implied volatility skew is making record highs vs realized vol, but please tell us more about ?complacency." pic.twitter.com/ekzrlvEyx7
in December of 2006 the $VIX traded 9.39 pic.twitter.com/qWFwhq3LI6
$VIX fell 8.7% last week to 11.36, closing about 2 points from an all-time low http://cboe.com/VIX?
Steven Russolillo?@srussolillo?
Slow start, big finish? Only nine years S&P 500 was up less than 4% through May. It kept rallying seven of nine times http://on.wsj.com/RJzmuI?
NYSE Euronext?@NYSEEuronext?
5/30/1973: The 20 billionth share is listed on the NYSE. #OnThisDay Today, more than 469 billion shares are listed.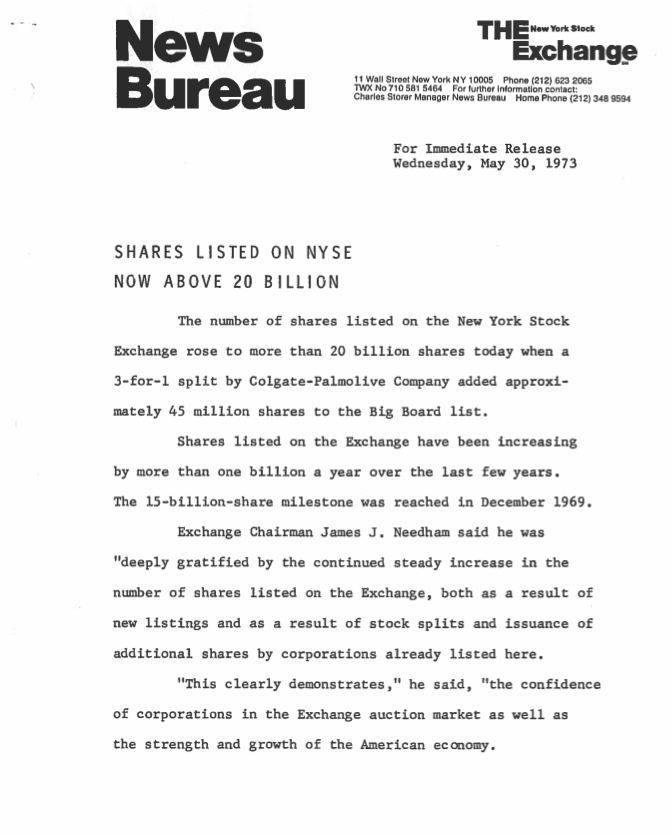 John Lothian?@JohnLothian?
Emerging Stocks Set for Longest Monthly Winning Streak Since ?09 http://bloom.bg/SWLWYX?
$LOVOL – CBOE Low Volatility Index hit all-time daily closing high of 167.50 on May 23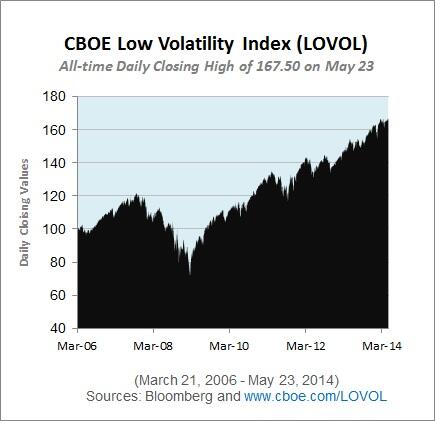 Steven Russolillo??@srussolillo?

So much for that "sell in May" thing: S&P 500 rallied 2.1% this month, hit 14th record of year http://on.wsj.com/1ke9gvz? pic.twitter.com/v36VUBZcwv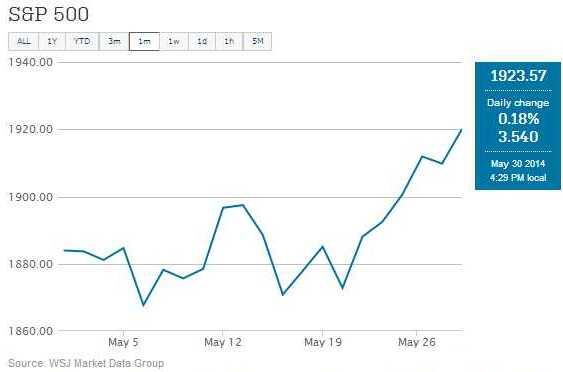 BATS 1000 Index closes at all-time high, closing week at 21,661.65: http://bit.ly/1ke8rTm? #BATSK
Both the S&P 500 and the #DJIA closed at record highs today. (Friday)
Economic news
The dynamic at the Federal Reserve may be about to change: http://cnb.cx/1vS1U5F?
2013/2014
In 2013, the muni-bond market had its worst year almost two decades: Now, it's roaring back: http://on.wsj.com/1pp6O8G?
This and that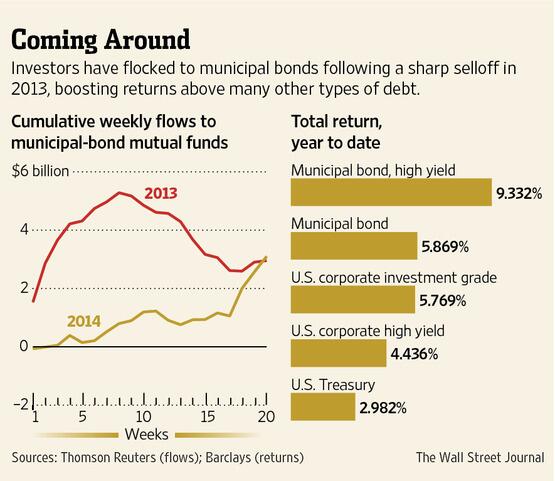 Josh Belanger?@optionsizzle?
Gorgeous day in Chicago. Traders in the pits clearing out to enjoy.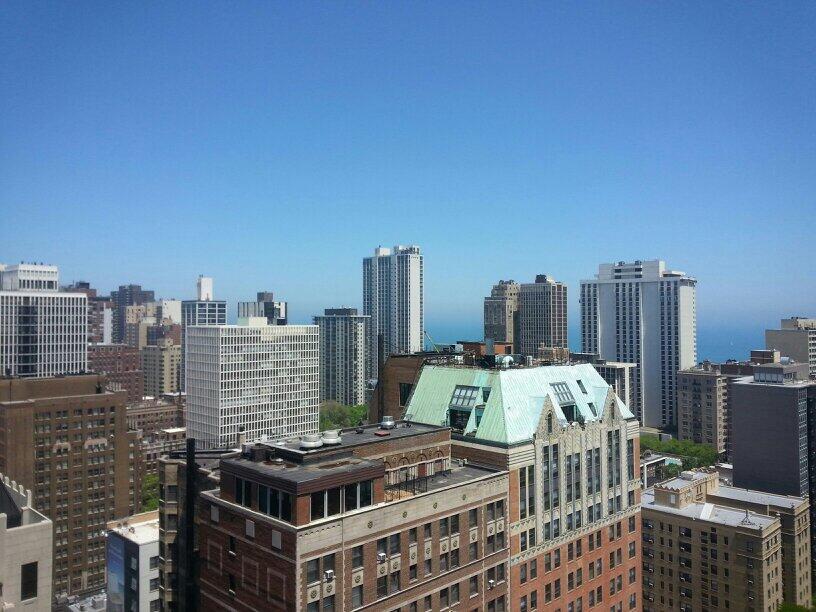 Ballmer Buys @LAClippers for $2B http://trib.al/aKDNzwv? VIA @TheDealNewsroom
More homeowners borrow against their homes. "That is the No. 1 product that customers want." http://on.wsj.com/1gFMYmK?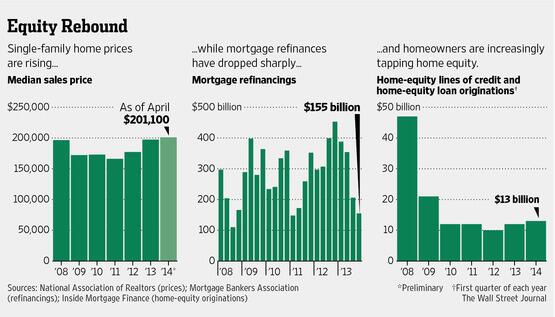 Marketplace?@Marketplace?
Google's employees are mostly white men. Why that matters: http://mktplc.org/1jyHdlC? by @kristianiaclark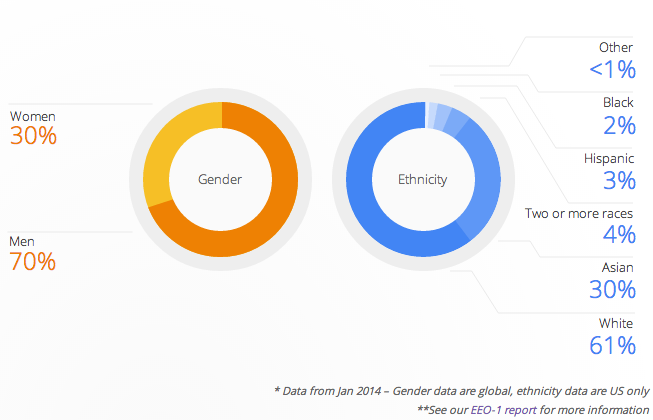 Learning Curve?@LearningCurveEd?
"Your diploma isn't just some PDF that you print out and frame" – William Shattner. http://bit.ly/1n9yeNf?
Yahoo Finance??@YahooFinance?

Netflix rose almost 30% in May, and only experienced four down days for the entire month. http://yhoo.it/1hk8myu? $NFLX @CNBC
.@GoldmanSachs predicts #Brazil will win 2014 FIFA #WorldCup http://trib.al/oDsEdOQ? $GS