The Option Pit Boot Camp is BACK:?Sign Up Here!
With 4.5 weeks to go in the VIX Aug cycle, there is not a lot of enthusiasm for the August VIX futures.?? Is cash too high, or are futures too low, or is it just a combination of both?? There was an average mark up in VIX due to the weekend but not much more than that.? Stocks sold off but really did not have a lot of gas to keep going down.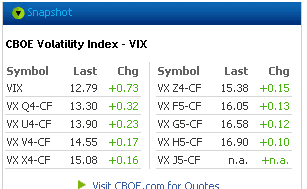 Visit?http://cfe.cboe.com/ ?for quotes on the VIX.
Note the lack of premium in the term structure. ?This is usually a sign that vol. traders are looking for a move lower in VIX.
There was not conviction anywhere really yesterday.? Good earnings are keeping stocks up and bad geopolitical news keeps pushing stocks down.? That should be enough to lock up the volatility for a while.? If nothing else really happens on the global front IV should start drifting a little lower, probably after AAPL and MSFT report. ?I think volatility will break in the path of least resistance which for 2014 has been on the downside. ?The pace of IV decline, however, will be slow.
The Trade
OTM put time spreads should work in VXX during this earnings week.? The near term IV is a bit elevated and game the trade to look for VIX around 11.5%. by the end of the week. ?We are avoiding index time spreads.