Has Dr. Copper Turned Bullish?
Today's Spotlight Market
While Copper prices have rallied the past few sessions, there is some skepticism that the recent buying was actually new bullish trades as opposed to short-covering. The most recent Commitment of Traders (COT) reports show both large and small speculators adding to their net-short positions for the reporting period ending June 17th. This was just prior to the ?bottoming? chart pattern that has formed on the daily chart. This does lead to some credence that prices have rallied mostly on short-covering, but this can be confirmed once the next COT report is released on Friday afternoon.
Fundamentals
?Dr. Copper ?has been on a minor bull run of late despite a dismal report on 1st quarter U.S gross domestic product (GDP). On Wednesday, the third and final revision on 1st quarter GDP was released and to say the number was a disappointment is a bit of an understatement. The Commerce Department reported that 1st quarter GDP contracted by 2.9% vs. expectations of 1.8%.? However, it appears that base metal traders looked at the GDP data as ?old news? and were more optimistic about U.S. economic growth expanding in the coming months, and Copper prices actually closed higher on the day despite an initial price decline following the GDP report. Traders noted a weaker U.S. Dollar and improving economic data as reasons for a rise in Copper prices along with talk that inflation expectations may not be as muted as the Federal Reserve seems to be inferring. Copper prices are also drawing some support from other base metals such as Zinc and Aluminum which analysts are forecasting the potential for higher prices due to tighter supplies in the case of Zinc and potentially higher demand for Aluminum in the coming months. ?
Technical Notes? -? View Today's Chart
Looking at the daily continuation chart for Copper futures, we notice the market restoring nearly all of its recent losses that were tied to concerns of a Chinese government investigation into bank lending practices that may have involved the pledge of commodities, including Copper that may not exist. Prices are now back above the 20-day moving average (MA) but are still hovering just below the widely watched 200-day MA, which many trades view as the determinant as to whether a market is in a bull or bear market state. The 14-day RSI is strong, with a current reading of 63.94. The next resistance level is seen at 3.1780, with support found at 3.0100.?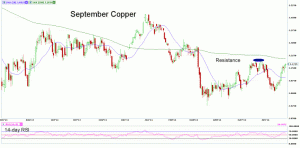 ——————————————————————————————–
Disclaimers
This article is provided for informational purposes only. No statement in this article should be construed as a recommendation to buy or sell a security or to provide investment advice. The content provided has been obtained from sources deemed reliable but is not guaranteed as to accuracy and completeness. optionsXpress makes every effort to provide timely information to its recipients but cannot guarantee specific delivery times due to factors beyond our control.
Derivatives involve substantial risk and are not appropriate for all investors. Please read the?"Disclosure Statement for Futures and Options"?prior to investing in futures or options.
For investments using a straddle or strangle options strategy the potential loss is unlimited. Multi-leg option strategies are subject to multiple commissions. Profits may be eroded by the commission expended to open and close the positions and?other risks?apply.