Crude Still Trading Above $105, But Will It Hold?
Today's Spotlight Market
Crude Oil futures continue to trade north of the $105 level, underpinned by the Iraqi forces clashing with ISIS rebels. Iraqi military forces have taken control of the Baiji refinery back from Islamist rebels. The likelihood of supplies from the nation being disrupted is very low at the moment. Nevertheless, fear has been a major driving force behind prices. If the Iraqi army is able to suppress the ISIS rebels, we could see a good chunk of this fear premium dissipate. ?
Fundamentals
The supply of Crude Oil in the US and abroad is very ample at the present time. China has significantly bolstered its emergency reserves of Crude Oil to 246.2 million barrels, which is the highest level since inventories began being tracked in January 2010.? China may continue to add to the nation's strategic reserves. However, economic activity in the Asian giant remains lackluster, at best, which could have negative implications. There have been calls for the People's Bank of China to offer further easing to stimulate activity. In the US, the Fed made a point to emphasize that it intends to keep interest rates low for the foreseeable future. Traders took this as a sign that the Fed will continue pumping money supply.? Domestically, traders will want to keep an eye on Cushing inventories. Destocking is expected, as the Keystone XL and other pipelines move Oil to the Gulf Coast.? If the trend of destocking is broken, it could be taken as a sign that demand is faltering.? ?
Technical Notes? -? View Today's Chart
Turning to the chart, we see the August Crude Oil contract continuing to trade north of the 105 level after breaking out on the 12th of this month.? The 105 mark has been tested once and held.? However, it may be interesting to note that the chart does show a potential M top forming.? If prices break through the aforementioned 105 level, we may see a short term reversal.? The RSI indicator remains north of the 70 mark, indicating overbought conditions.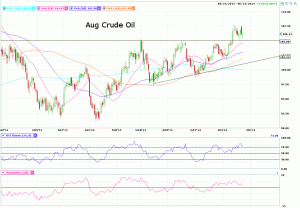 ——————————————————————————————–
Disclaimers
This article is provided for informational purposes only. No statement in this article should be construed as a recommendation to buy or sell a security or to provide investment advice. The content provided has been obtained from sources deemed reliable but is not guaranteed as to accuracy and completeness. optionsXpress makes every effort to provide timely information to its recipients but cannot guarantee specific delivery times due to factors beyond our control.
Derivatives involve substantial risk and are not appropriate for all investors. Please read the?"Disclosure Statement for Futures and Options"?prior to investing in futures or options.
For investments using a straddle or strangle options strategy the potential loss is unlimited. Multi-leg option strategies are subject to multiple commissions. Profits may be eroded by the commission expended to open and close the positions and?other risks?apply.